"I am quite often asked: How do you feel about having ALS? The answer is, not a lot. I try to lead as normal a life as possible, and not think about my condition, or regret the things it prevents me from doing, which are not that many."
– Steven Hawking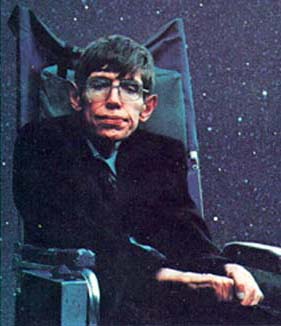 It may seem disingenuous to characterize physical development simply in terms of diet/nutrition, primal movement, and posture practice. The reality is that at least two of these strategies are completely dependent upon reasonable physical health. This might seem to mean that a large segment of the population – those with certain physical disabilities – would be rendered unable to participate in these activities and would therefore be unable to foster the kind of development in the physical realm that we talk about here at myCreativeEvolution.com.
I say, Not so fast. Let's take a closer look:
A student brought up the specific example of Steven Hawking at a recent intensive retreat. We were discussing the model of the human being as having three aspects – the mind, the body, and the spirit – each requiring work in order to insure balanced development. His question was, "What about Steven Hawking? He can't move his body at all? Can his development ever be seen in this model as balanced?"
A fair question, to be sure. Since Steven Hawking has the most severe of physical handicaps, one that takes away all possibility of developing strength or movement, can he ever actualize anything like what we would call "development of the physical body?" To answer that question, we first need to look at why it is we're even interested such a thing.
The first thought that might come to mind: "Well, we need to be balanced, so we don't want to ignore any one piece of the puzzle – mind, body, or spirit," and yes, that's true, but that doesn't really help us answer the question. The real reason we go after the physical body the way we do is so that we can eliminate distractions from said physical body. These distractions are a large part of what keeps us tied to the incessant bidding of the body.
Excess tension in my neck and back requires that I complain to my friends, that I take time to schedule a massage therapy session next week, or at least that I have difficulty paying attention to a conversation with my wife because I'm busy trying to find a posture that doesn't cause discomfort. Acid reflux disease in my gut requires that I go to the store and purchase Tums, then do my damnedest to make sure I have some in my purse before I head out on my date tonight. Limited mobility in my shoulders and hips makes me afraid of trying any new physical activity with my son, and so I tend to retreat from him when he gets home from school, hoping he won't ask me to come outside and play. Excess bodyfat and poor cardiovascular health make it difficult for me to walk long distances, so I simply avoid going out as much as I can.
These are all distractions in the physical realm that keep us tied into the endless mechanical script of the man-machine. The physical work we describe on this blog is all designed to eliminate these kinds of distractions so attention can be paid to some other, less mechanical expression of Being. When you are no longer hampered by such distractions, it can seem like you don't have a body at all, and that is why we do work on the physical body – to essentially eliminate it from the picture. Indeed our work here is devoted to forging the adamantine body – a body unlimited by form, one transformed into a true vessel of conscious attention.
So, returning to our original subject, I would argue that in this sense Steven Hawking has a distinct advantage over the rest of us. Think about it: How often do your thoughts turn to tending to your physical body? Can you even wager a guess?
Dr. Hawking doesn't have to guess, because he no longer deals with this typical barrage of physical signals demanding his attention. He and others who suffer from ALS, like historian Tony Judt, report a genuine detachment from the body – the very thing that serves as a primary attachment for the rest of us. So in a certain sense their particular physical state is the goal of physical practice – body free from distraction.
This goal – the adamantine body, the resurrection body, the supraconductive body, free from any need to constantly, consciously attend to the discomforts of physical form – as Steven Hawking shows us, is certainly a possibility for those who cannot perform the physical practices outlined here; but as he also shows us, this is a dramatic exception to the rule, and requires extraordinary circumstances no one would wish on their worst enemy.
Get Updates Via E-Mail
What We Do
Discuss and demonstrate techniques for modern, balanced human development in the light of evolutionary science and spiritual tradition -- lots of scientific discussion and practical application, with a bit of poetry and theoretical musing mixed in.
Start Here
Posts by Dimension
Posts by Subject
Posts by Practicality