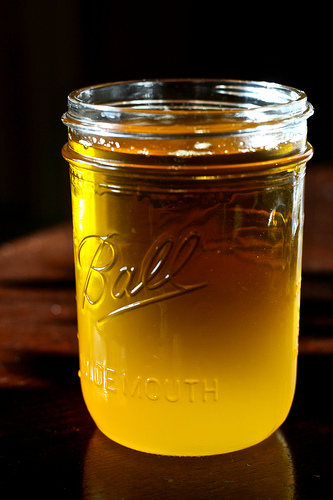 This is the first official episode of myCreativeEvolution Television. Woot!
In this experiment, I'll show you how to make your own ghee in your own kitchen from unsalted organic butter for less than half the price you'll pay for it mail order over the Internet. Making your own Ghee is a super simple process, but it does require patience, and it will probably take you about 2 hours. Before we get to the video, though, let's first establish what ghee is, and then talk a bit about the benefits of using ghee instead of butter or some other fat for cooking.
If you've taken a stab more than twice in your life at cooking Indian food, you've probably seen "ghee" in an ingredient list. And, if you're like me, you just substituted butter, olive oil, or some other fat because you didn't have any ghee, you didn't know where to get any ghee, and you honestly weren't exactly sure what ghee was at the time. That was me until rather recently.
Ghee is simply the Indian or Ayurvedic version of clarified butter, which is commonly used in French cuisine. What they do is cook all the water content out of the butter, as well as the milk solids, leaving pure fat — YUM! To make ghee, we'll just cook the butter a bit longer than we would to make clarified butter. This toasts the milk solids (which settle at the bottom of the pan), and gives the ghee a wonderful, unique flavor.
In terms of the benefits of using ghee as opposed to some other fat in cooking, there are two different categories — verifiable and mumbo-jumbo. Since ghee has been a staple in Ayurvedic medicine for millennia, when you research its benefits, you'll find a lot of anecdotal, hocus-pocus-y claims. I don't mean to say I think these claims are all false, just that they are not really objectively verifiable. In the interest of honest inquiry, I have separated claims that are scientifically verifiable from those that are more, shall we say, esoteric.
Verifiable Benefits of Cooking with Ghee
Favorable Fatty Acid Profile – Ghee contains roughly 2/3 saturated fat, of which about 90% is short-chain, making it comparatively easy to digest.1  Additionally, short-chain saturated fatty acids facilitate hormone production (of particular importance would be Leptin, which signals satiety and regulates energy consumption and expenditure)2, strengthen cell membranes3, and improve nutrient absorption.  Of the roughly 30% that are unsaturated fatty acids, only 4-5% are PUFAs.  From what I can tell, the Omega-3 to Omega-6 ratio appears to be 1:1, which won't by itself undo the damage of the Standard American Diet, but is certainly superior to most vegetable oils and factory-farmed meats.
Higher Heat Point or Smoke Point – Ghee can be heated in a pan to a higher temperature as opposed to just about any other fat out there before it burns, which means it is more ideal for high heat cooking.4
Lactose Free – Ghee is free of lactose, so those who are lactose intolerant can use it as they wish.
Longer Shelf Life – Ghee basically stores indefinitely in the fridge, and it can even be stored a very long time at room temperature, far longer than butter.
Tastes Great (subjective) – Ghee has a wonderful taste, in my humble opinion.  This is of course verifiable, but only on a case-by-case basis, so check out the video below, make some homemade ghee of your own, and see for yourself.
Anecdotal Benefits of Cooking with Ghee
Improves Skin Tone – They (those "in the know" when it comes to Ayurveda), say ghee can improve your skin tone as both a dietary supplement, as well as a topical ointment.
Stokes the Fires of Agni – In Ayurveda, agni means "digestive power" or "digestive fire," so folks sometimes say things things like, "if the gastric fire is kindled by fuel in the form of ghee, then it cannot be suppressed, even by too heavy food."  However, its positive effects are not limited to digestion but are often extended to assimilation and elimination as well.
Enhances your Ojas – Ojas is a Sanskrit term meaning "vigor."  In Ayurveda, it refers to the pure substance that is extracted from food once it has been fully digested.  Ghee is supposed to increase both the quantity and quality of Ojas, which is apparently a really good thing.
So, those are a few of the benefits of cooking with ghee.  If you're interested in saving about 55% on quality organic ghee, check out the video below to find out how you can make homemade ghee from unsalted organic butter right in your own kitchen!
Get Updates Via E-Mail
What We Do
Discuss and demonstrate techniques for modern, balanced human development in the light of evolutionary science and spiritual tradition -- lots of scientific discussion and practical application, with a bit of poetry and theoretical musing mixed in.
Start Here
Posts by Dimension
Posts by Subject
Posts by Practicality