Browsing articles from "April, 2011"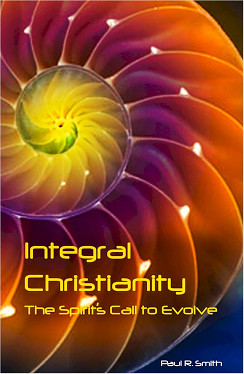 I am really excited to bring this particular podcast episode to you guys this week! It's a timely release, this being traditionally Holy Week, when Christians around the world reflect on Jesus' crucifixion and resurrection. It is possible to understand this powerful story as representing the death of deeper, higher orders of Truth at the hands of lower, more shallow truths. Indeed, we see Jesus as a shining example of life lived in the heat of the friction between what we see as the default position of biological evolution and the alternative expression of Creative Evolution. My own personal relationship with Jesus is revealed as I seek daily guidance in understanding my mechanical nature and in allowing my inner creativity to rise to the surface.
So in honor of Holy Week, I am bringing you guys my conversation with Reverend Paul Smith. He has been a pastor at Broadway Church in Kansas City, MO for almost 50 years, and he is the author of a new book called Integral Christianity: The Spirit's Call to Evolve. Paul and I have a special connection: his church is the first church I ever attended. Born in Kansas City, I went to Broadway Church with my parents until we all moved to Arkansas when I turned 6. Since that time Paul and I both have walked the path of creative evolution, and we both have ended up embracing Christianity in a way few today dare speak about. Have a listen to our dialogue, and by all means pick up a copy of Paul's book today! E-mail me or comment on the post below if you have any thoughts about our discussion.
Alternative content
Download To Your Computer (runs about forty-five minutes)
Introduction — 00:00 – 02:12
The Three Faces of God — 02:12 – 11:45
Reading the Bible as a Stage-Development Chronicle — 11:45 – 15:25
Jesus, Lazarus and Creative Evolution — 15:25 – 26:03
Where We Were, Where We Are, and Where We're Going — 26:03 – 33:45
Paul's Background — 33:45 – 42:07
Closing — 42:07 – 44:12
Get Updates Via E-Mail
What We Do
Discuss and demonstrate techniques for modern, balanced human development in the light of evolutionary science and spiritual tradition -- lots of scientific discussion and practical application, with a bit of poetry and theoretical musing mixed in.
Start Here
Posts by Dimension
Posts by Subject
Posts by Practicality