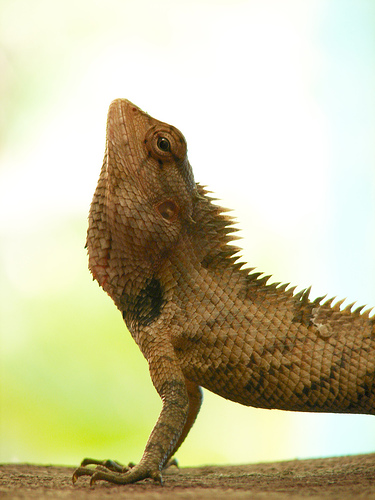 Over the past 12 years or so, my yoga posture practice has changed dramatically. It all began when I walked into a Barnes and Noble bookstore in college and bought a beginner's yoga book published by the Sivananda Yoga Center. The posture practice was a pretty standard, well-ordered sequence of asanas, preceded by one vinyasa (surya namaskar). This took me a long way toward exploring myself within the postures, but it wasn't until I discovered "Power Yoga" that I found a way to become more immersed in some sort of connected flow through the entire practice.
During this time period (about eight years ago) I also discovered Godfrey Devereux's Dynamic Yoga Method. Combining the energetic qualities of the bandhas and the spirals with the connective possibilities of vinyasas between asanas, I really felt like I had a fantastic, even fluid practice. However, it wasn't until until the next novelty in my practice emerged that I discovered how truly connected and fluid a yoga posture practice could be.
It was actually thanks to the recommendation of a reader, Duff McDuffee (who now writes at BeyondGrowth.net) that I discovered Scott Sonnon and his vision of Prasara Body-Flow. I promptly bought Sonnon's book, Prasara Yoga: Flow Beyond Thought, along with several of his instructional DVD's, and set out to learn his system as best I could. I learned the basic movements, memorized the 5 "Series A Prasara Flows" (as they are taught by Sonnon), and finally received a Level 1 Instructor Certification a little over two years ago.
All this time, as I was struggling physically to learn these new movement patterns, I was simultaneously struggling intellectually as to how I might reconcile or integrate prasara with the posture practice I had known and loved for so many years. Sonnon and his staff teach prasara primarily to military and emergency first responders, martial artists, athletes, and fitness enthusiasts as a means of sophisticating movement patterns and releasing overused or overcompensating myofascial tissue. As such, its applications are many and fairly clear-cut; however, prasara is a more difficult thing to explain to most experienced yogis like myself.
This is mainly because we live in a world dominated by trendy "styles" of yoga that feature a variety of combinations of asanas and vinyasas. We try out one particular style or another and settle into a groove of sorts, identifying ourselves with that style of practice. Accordingly, if I say to someone at my local yoga studio, "I practice prasara yoga," they assume this is another trendy, stylistic combination of asanas and vinyasas, with its own proprietary sequences to be learned and developed. To an extent, they're right.
There are 10 official prasara flows sanctioned and taught by Sonnon and his upper-tier coaching staff. Conceptually, I struggle with the designation "prasara flow,"  since these flows are technically sequences of what are called kinetic chains connecting one asana to another in a sequence.  I think a more accurate term would be postural-kinetic flow, but that's basically a minor semantic difference.  The way I learned these sequences was simply to perform them one after another in a given practice, and I eventually became pretty proficient at it. However, as I began to get the movements down, I started to wonder, "What happened to vinyasa?"
It was as if I had just replaced vinyasa with prasara. It seemed in practice, a more organic means of getting from one posture to another, and this realization initiated an intellectual exercise to explore the value of vinyasa in practice. Was it simply redundant to prasara? Was prasara actually a next-level evolution of vinyasa that rendered the old form obsolete in practice, or could it be that there was a proper, necessary place somewhere in practice for both?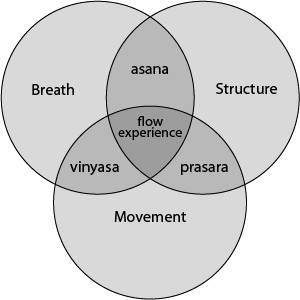 I felt deep inside that the answer to the last question had to be, "Yes." Sonnon admits as much in his book with a venn diagram explaining how asana integrates structure with breath, prasara integrates structure with movement, and vinyasa integrates breath with movement. The arbitrary, intellectual distinction of breath, structure, and movement as "the three technologies of the human body" notwithstanding, vinyasa and prasara do have clear qualitative differences, which means they each must have their own value in practice.
So I set about dissecting the "prasara flows" and experimenting with the pieces. As I mentioned earlier, the flows themselves are constructed by linking asanas together with kinetic chains. These chains are more or less seamless sequences of multi-planar transitional movements. What I found in this process of dissection was that the value of prasara in practice is generally just what Scott Sonnon asserts in his teaching: movement through the middle. More specifically, prasara provides a sophisticated set of transitions, which allow you to move efficiently, powerfully, and gracefully between foundations (ie – from standing to sitting and back, from one asymmetrical posture to the opposite and back, etc).
So if prasara is the yogic science of flowing transitional movement, what becomes of vinyasa? Like so many other yogis, I had for a long time equated vinyasa with flow, and used vinyasas functionally as transitions between postures. After finding prasara, however, I had to admit that they were fairly rigid transitions in comparison. And yet, the vinyasas refused to go away. What I began to see in the light of my practice was that vinyasas were superior as a means 1) to prepare for and 2) to recover from holding a difficult asana or performing a challenging prasara transition. Because of the conscious syncing of the physiological processes of breath to the simple functional/structural movements of vinyasa, it as a mode of practice is perfect for establishing and restoring cadence to the various biomechanical rhythms of the body (lumbopelvic rhythm and scapulohumeral rhythm being the two most important examples).
Vinyasa provides some movement, which makes it less challenging to the nervous system than the relative stillness of asana; however, the movements are generally simple, which makes it less challenging to the nervous system than the multi-planar movements of prasara. This balance between challenge in stillness and challenge in movement lends vinyasa its unique harmonizing effect.
Once I stumbled upon these distinctions, my posture practices began to look and feel more creative, improvisational, athletic, and functional than I ever could have imagined. Now that the intellectual/conceptual expression of my yoga posture practice has caught up to its functional/practical application, I hope to write more about it here. I also hope to share some videos that will illustrate my ideas.
If you have any comments or questions, please use the contact form in the footer below, hit me up on Twitter, or comment directly after this post. If you're interested in being the first to find out about new posts via e-mail, just click here to Subscribe to Creative Evolution by Email, or enter your e-mail address in the form at the top of the right sidebar on this page.
23 Comments

Get Updates Via E-Mail
What We Do
Discuss and demonstrate techniques for modern, balanced human development in the light of evolutionary science and spiritual tradition -- lots of scientific discussion and practical application, with a bit of poetry and theoretical musing mixed in.
Start Here
Posts by Dimension
Posts by Subject
Posts by Practicality