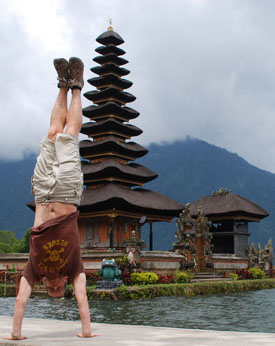 First off, I just wanted to say that Matt and I have been knee deep since the beginning of the year in creating the Circle Yoga Shala 500-Hour Teacher Training curriculum, so we've been quiet in terms of blog posts.  We plan to get back into a regular posting rhythm as the demands of that project lessen.  In the mean time, I wanted to address a couple of questions from one of our readers, Damon.  In response to my article on the integration of prasara into a more traditional asana/vinyasa practice, Damon wrote:
Ok so how would suggest combining an asana/vinyasa/prasara practice? And what place would you give to other Sonnon practices such as Intu-Flow and Flowfit? Could you give an example of how you might work these practices together over a week/month. And which of them, if any, you would regard as redundant.
I responded briefly to his comment on the post itself, but I wanted to take a more in-depth look at these questions in a proper post, so here we go.  I'll do this by looking specifically at the thinking behind my upcoming hatha yoga training cycle.
First of all, dynamic joint mobility work is the mainstay of my practice.  I strive to wake up with mobility work, and go to sleep with mobility work.  Mobility work is also often integrated into my posture practice.  This means that something Intu-Flow really ought to be happening all the time, no matter what your posture practice looks like.  It's simply the best way to keep your joints healthy and to regain and retain movement patterns as you age.
On the subject of Flowfit:  Flowfit, Be Breathed, and Forward Pressure actually constitute what are known in Circular Strength Training (CST) nomenclature as the Golden Three.1  They are the core competencies in the Prasara Body-Flow wing of the CST system.  Therefore, utilizing one of these programs in your training is simply to utilize prasara, so I don't feel like they are redundant in that regard.  Rather, they are part of the Prasara Body-Flow toolbox of transitional movements. Flowfit II is another of Scott's ingenious movement programs that would fit into this category, though it isn't a core competency.
The Practical Example
The first thing we should discuss is goals. The overarching goal of any hatha yoga posture practice should always be inquiry: sensitive, honest, open, focused, generous inquiry into what's happening inside and immediately surrounding your body as you move and as you approximate stillness within your practice. This has numerous benefits in and of itself, benefits that arise from the integrating force of such inquiry.
There are, of course, many more pragmatic physical benefits that come from posture practice as well, and as long as you're doing inquiry, you are free to play with the structure of your practice to bring about a wide range of physical realities. Establishing goals for your practice allows you to plug those goals into a kind of algorithm of specific techniques that can be judiciously applied to help you get where you want to go. This algorithm involves macro-cycle design, micro-cycle design, and individual sequence design.
So, as a practical example of the integration of vinyasa, prasara, and asana into a single practice that is then integrated into a micro-cycle, which is then integrated into a macro-cycle, we will break down a single sequence from my upcoming training macro-cycle.  Since my goal of improving my handstand is performance oriented, my macro-cycle will take the form of a 4-day waving intensity protocol like the one described by Scott Sonnon in his blog post, "4" Ultimate Life-Long Fitness FREE For You. This protocol does two important things: 1) it honors my primal fitness orientation to the physical aspect of being human, and 2) it encourages improvements in performance with each micro-cycle in a way traditional program design doesn't.
To explore the intermingling of prasara, vinyasa, and asana in a single hatha yoga posture practice sequence, we'll break down my medium intensity day's workout.  It is geared toward building strength in my areas of weakness.  My goal in this macro-cycle is to improve the stability of my handstand.  My weaknesses are related to mobility in my hips and shoulders, as well as strength in my my mid-to-upper-back.
So, my medium intensity sequence begins with several repetitions of the traditional Sun Salutation. This is a vinyasa that warms the major muscles of the body nicely and sets the stage for the rest of the practice. Next, to really warm the hips, I will include some prasara movements like the squat creep->shin twist and some variations on the double-shin roll found in the Flock of Pigeons flow. After this comes a simple dog wave vinyasa, followed by a downward dog hold and a standing forward bend hold. Next comes a series of shoulder-strength exercises in the forward-bending/downward dog position, followed by some forward rolling blended with another prasara transition called the twisting spinal arch that will strengthen and improve mobility in my mid-back. From here comes a simple dog wave vinyasa to reset biomechanical rhythms, finishing with an extended downward dog hold, moving then into an upper-back/shoulder strengthening series using a band stretched around my feet to work the rhombo-serratus complex and rotator cuff, along with wheel presses and an extended wheel hold. This leads into some neck rolls (more prasara), then Tumbleweed flow, punctuated by some cobra, shoulder bridge, and plow holds to finish things off.
There are obviously other considerations to be made when computing the full algorithm for a 28-day macro-cycle, but hopefully this gives you an idea of how asana/vinyasa/prasara can be integrated into a single practice. You can imagine that on the Low Intensity day and the High Intensity day, there is a similar integration with a different emphasis: compensation being emphasized on the Low day and intensity of effort being emphasized on the High day.
If you guys have any questions or comments about this post, please let us know by leaving your comment below or hitting me up on Twitter. Thanks as always for reading!
Footnotes
1 – Flowfit, Intu-Flow, Be Breathed, Forward Pressure, Prasara Body-Flow Yoga, and Circular Strength Training are all registered trademarks of RMAX International.
Get Updates Via E-Mail
What We Do
Discuss and demonstrate techniques for modern, balanced human development in the light of evolutionary science and spiritual tradition -- lots of scientific discussion and practical application, with a bit of poetry and theoretical musing mixed in.
Start Here
Posts by Dimension
Posts by Subject
Posts by Practicality